Caring for your Carpet
Regular Vacuuming
Thorough and frequent vacuuming, particularly in high trac areas, is important for prolonging the life of your carpet and enhancing its appearance.
Spot Cleaning
Carpet is not 100% stain proof, to ensure best results from spot cleaning, attend to the stain quickly ensure you blot and do not rub. For detailed instructions, refer to the downloadable Care and Maintenance Guide below.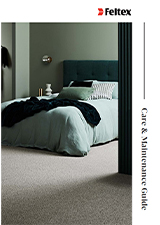 Download Guide
Steam Cleaning
Depending on usage, carpet should be professionally steam cleaned (hot water extraction) every 12-18 months to keep your carpet looking its best.
Installation
For best results, have your quality Feltex Carpet installed by a professional flooring installer, you'll also find detailed instructions in the downloadable Care and Maintenance Guide.
Warranty
When you choose Feltex Carpet, you can be secure in the knowledge that your carpet is backed by a comprehensive warranty, supported by New Zealand after sales service and leading New Zealand manufacturer.